A flood detection mobile application that helps to check prevailing water levels and risk of flooding within parts of the Greater Accra Metropolitan Area (GAMA) was launched in Accra yesterday.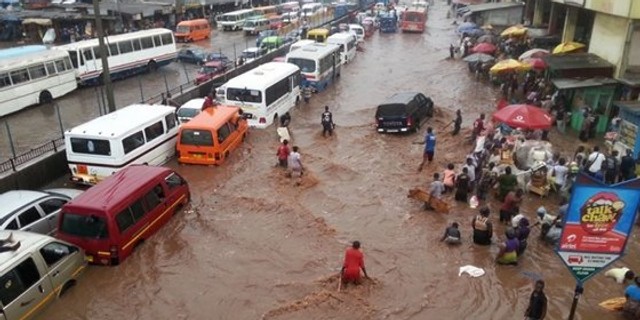 Named "My Flood Risk App Accra," it shows flood hazards and exposure, creates awareness on flooding using infographics and videos, displays rainfall forecasts and provides emergency contact information.
It was developed by German Development Cooperation (GIZ) and Allianz, a German insurance multinational, with support from the Ghana Meteorological Agency (GMet) under the "Developing Risk Management Approaches for climate and health Risk" project.
Currently, the App covers areas in the Ga East and West municipalities and Accra metropolis with upgrades being considered for extension to other areas in the region. At the ceremony where the App was symbolically handed over to the GMet, the Minister of Communication and Digitalisation, Ursula Owusu-Ekuful, in a speech read on her behalf by her deputy, Ama Pomaa Boateng, commended the project partners for using digitalisation to enhance weather information.
She disclosed that the GMet was collaborating with the University of Ghana and other partners to develop a weather information dissemination system to share timely weather information to the public through a shortcode. "If citizens are forewarned of the possibility of rains leading to flooding and if they are able to access prevailing water levels in times of rains, it assists in taking precautionary steps to save lives and property," she said.
Ms Boateng, therefore, called on the public to download and use the App to help authorities keep them safe. The Acting Director-General of GMet, Eric Asuman, said the development of the App was in line with ongoing efforts by the Agency to digitalise aspects of its operations. He said the App was significant to the Agency's operations because it would enable the Agency to communicate weather warnings and advisories more directly, efficiently and timely to the public.
"Over the years, the Agency has heavily relied on traditional media for the purpose of reaching out to our stakeholders. However, we have not often achieved optimum results because the traditional media houses sometimes do not communicate the forecast timely as expected" he said. Touching on flooding and rainfall patterns in Accra,  Mr Asuman,  said previously, the metropolis could only get flooded when it experienced over 80 millimetres of rainfall, but current data indicated that now only 30 millimetres of rainfall could get some parts of the city flooded.
Aside from the App, he said the Agency was in collaboration with various partners to improve climate and weather service delivery and called for more support for the public to help safeguard lives and property. The Head of the SAGABI project, Mathias Range, said the App would go a long way to minimise the impact of flood within the catchment areas and help city authorities to build resilience.
To add to this article or start a conversation, join our forum to share your opinions with other readers. For stories of this sort and more, do well to log on to www.jbklutse.com or visit us on Facebook.
Miracle. Has worked as a research analyst for hightail consult limited in Accra, Ghana, and as a publishing assistant in a peer-reviewed journal for the Catholic University College of Ghana. he has also worked as a data operator, team writer, and turnitin plagiarism software evaluator for research institutes and as one of his Illustriousness's services specializing in academic journal management and software development. He is currently working as a neural network tutor, content writer, lecturer, and consultant. Miracle Research focuses on public health technology, testing and penetration, business intelligence, content management, neural networks, transitions and trajectories, as well as image and video steganography with cryptosystems.