Google has a bevy of new Android features coming soon before 2021 ends. These updates include new widgets for YouTube Music, Google Play Books, and Google Photos, new Android Auto features, and new updates for Google Assistant and Google Photos.
Let's go into the details for each.
New widgets
Three Google apps are getting new widgets.
Google Play Books widget – allows you to access your entire collection and track the progress of your audiobooks.
YouTube Music widget – on your Home screen, you'll find playback controls and access to recently played tracks.
Google Photos People & Pets widget – allows you to choose a few faces and a suitable frame, after which the widget will decorate your home screen with your loved ones.
New Memories, which include a curated collection of photographs and videos, are rolling out this week in the app.
Within the usual photo grid interface, Google Photos' Memories feature will start showcasing selected photos and videos from holidays, as well as major anniversaries like birthdays and graduations.
If you wish to, you may rename, customize, correct, and eliminate these using specific controls.
Family Bell
Then there's Family Bell, which will notify you and your family when crucial events in the day are approaching. The notifications are sent through phone, home speaker, or smart display.
You may set "bells" on your own devices in addition to the shared "bells" to keep track of your personal objectives.
Vising Grandparents, having a family movie night, or volunteering to assist at church are all recommended bells for the holidays.
How to set up Family Bell.
Activate Google Assistant by saying, "Hey Google."
Say," Set up Family Bell for [event name]."
Select the time of the reminder on your phone.
Select the devices to chime.
You can also edit Family Bell reminders in Google Assistant if required.
Digital car key
This is now live on the Pixel 6 and 6 Pro, as well as the Samsung Galaxy S21, in select countries. It will only work with compatible BMW cars for now.
As the most significant automotive-related update, Pixel 6, Pixel 6 Pro, and Samsung Galaxy S21 customers in select countries will now be able to use their phones as a car key with "suitable BMW automobiles."
In May, Google stated that it was working on a vehicle key feature for Android 12, naming BMW as one of the manufacturers with which it would collaborate.
The technology will be accessible "on all BMW 2020 & 2022 model year vehicles," according to Google, which aims to expand the list of compatible automobiles in the future.
Permissions for apps
Once applications have been idle for a while, this feature will switch off runtime permissions, which allow them to access data or perform activities on your behalf. When you launch each app again, the permissions are reactivated.
Google Play Services will offer auto-resetting of permissions for applications you haven't used in a while starting next month on Android 6.0 and later.
The functionality is already accessible on Android 11 and above smartphones, but it will be rolled out to Android 6 and higher devices "beginning next month," according to the firm, implying a January release. It had previously been said that the expansion will begin in December.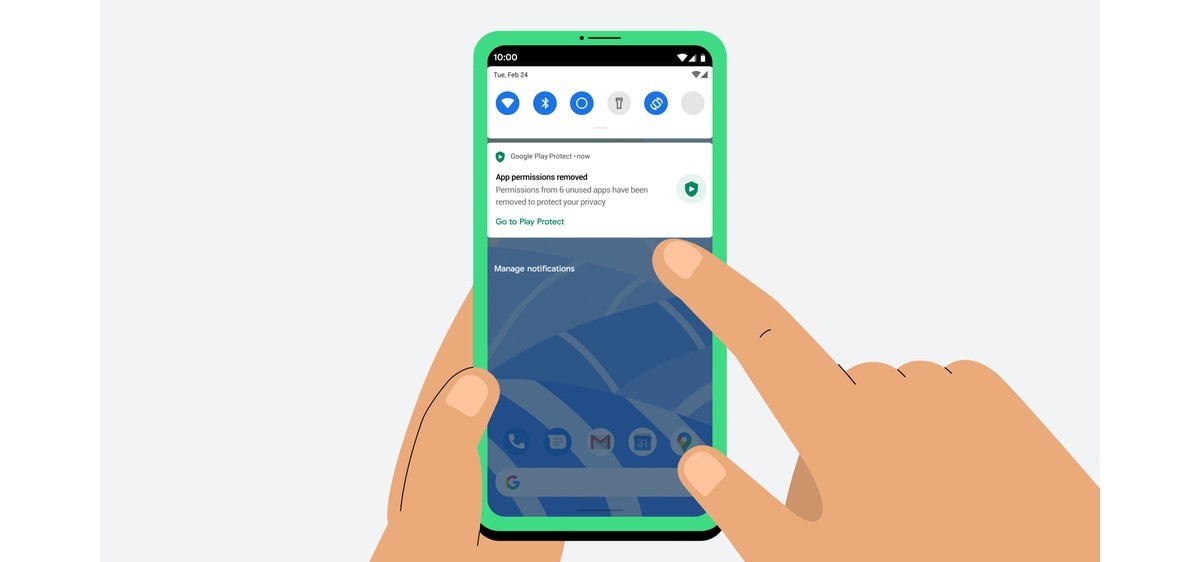 Gboard
Gboard is receiving new Emoji Kitchen combinations, including the wrapped present box emoji and a new selection of fuzzy friends.
These are now being sent out to Gboard Beta users and will be accessible to everyone in the coming weeks.
Android Auto
Finally, Android Auto can be configured to run immediately when you connect your Android phone to a compatible car, and we're sure you're asking why this wasn't already a feature.
Once you're on the road, you'll have access to smart answers, which will allow you to react to a text message with the Google Assistant more effortlessly.
Also "coming soon" is the option to utilize your voice to search for music in your media applications more quickly.
Another Android Auto feature is a new play button on the home screen that allows you to start music playback with a "one tap."
Availability
As is customary with Google feature updates, these additional options will be available in a range of timeframes, ranging from "now" for the BMW vehicle key function to "coming months" for the Android Auto voice search and smart responses capabilities.
Till the next range of updates, enjoy these new Android updates in 2021.
… … …
To add to this or start a conversation, join our forum to share your opinions with other readers. For stories of this sort and more, do well to log on to www.jbklutse.com or visit us on Facebook