One of the most frustrating things when catching a flight is not being able to sleep. But there's a "game-changing" item that's gone viral – Trtl travel pillow.
It comes down to a variety of factors like lack of privacy and personal space, dry, recycled air, turbulence and noise.
Unless you're super lucky and manage to get a whole row of seats to yourself, chances are you're not going to get much shut eye.
It can be particularly frustrating for Aussies who almost always have a very long flight ahead when travelling abroad.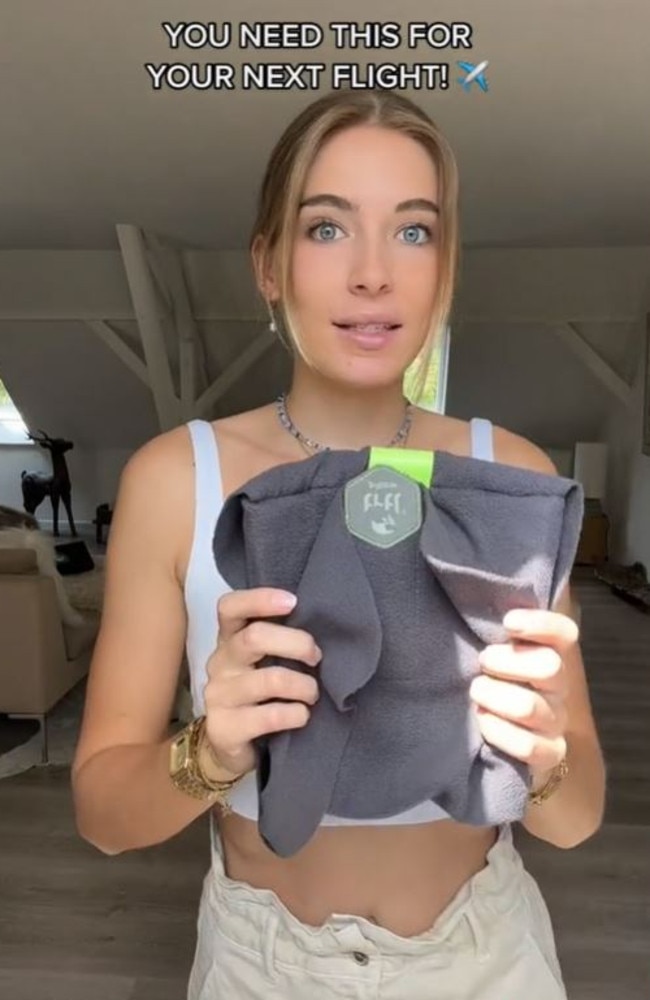 US influencer Lou swears by the TRTL Travel Pillow, saying it gave her the 'best' sleep on a recent flight. Picture: TikTok/lostlikelou
To help with this annoying problem, some passengers opt for a travel pillow which is usually shaped like the letter 'U'. It provides support to your head and neck.
But – there's a new pillow making the rounds and travellers have branded it a "game-changer".
If you search TRTL pillow on TikTok, you will come across an endless stream of positive reviews. Not only that, but the cleverly designed pillow also racked up more than 26,000
reviews on Amazon alone.
Why? According to the majority of passengers who have tried and tested the $65 product, it gives you the "best sleep".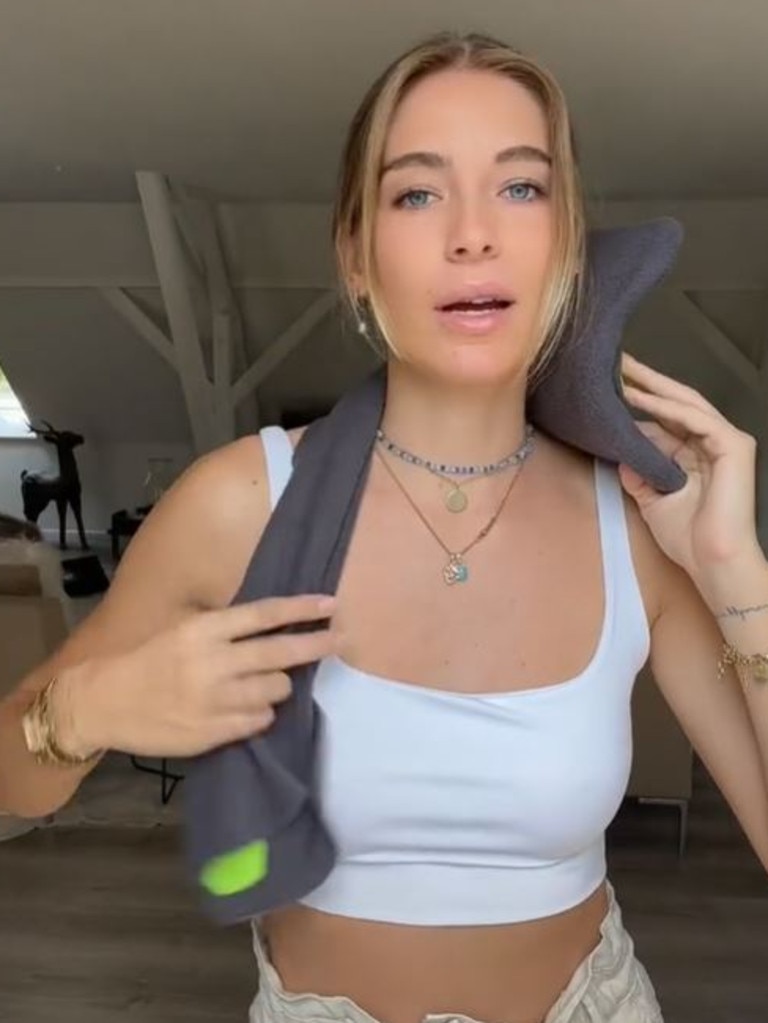 The UK-based item is designed to be wrapped around your neck. Picture: TikTok/lostlikelou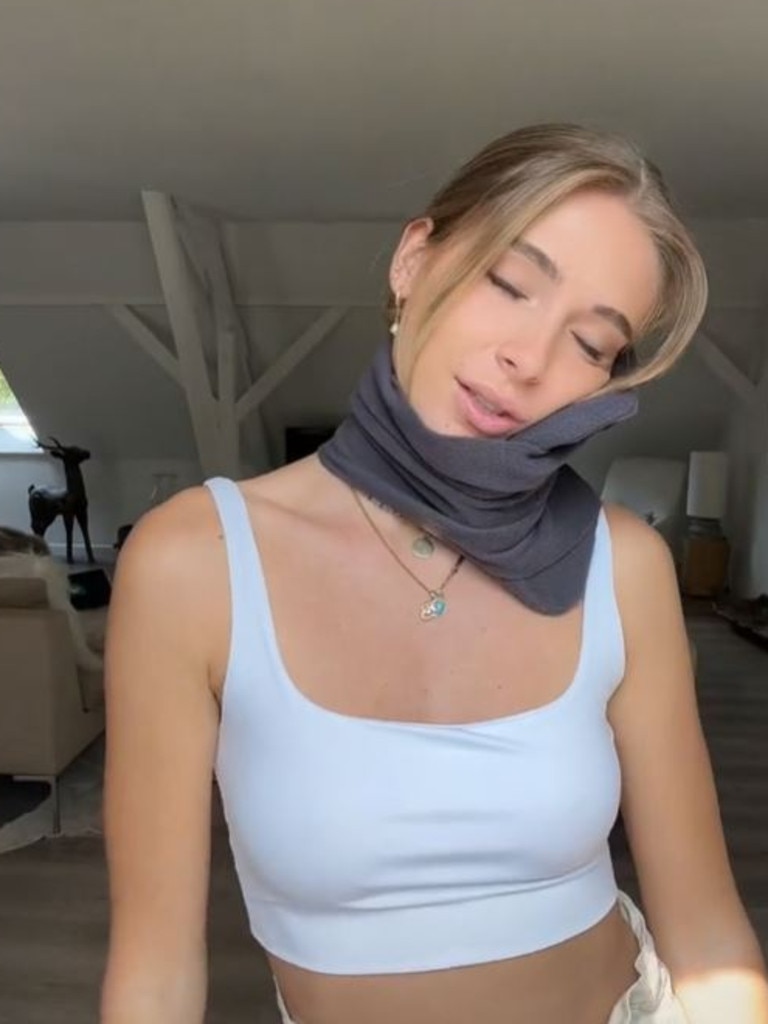 And it has an internal support system to prevent your head from flopping all over the place when trying to sleep. Picture: TikTok/lostlikelou
"So I bought this travel pillow a couple of weeks ago before I flew home from Thailand and I have never slept so much on a plane," US travel influencer Lou told her TikTok followers.
"I have tried the normal neck pillows and they don't work for me.
"If you don't have a window seat there's literally no way you're gong to sleep – well for me at least."
The "secret" of the TRTL Travel Pillow is in its internal support system, hidden in its super-soft fleece, according to the product's website.
Lou, who goes by the handle 'lostlikelou', demonstrated how to use the pillow.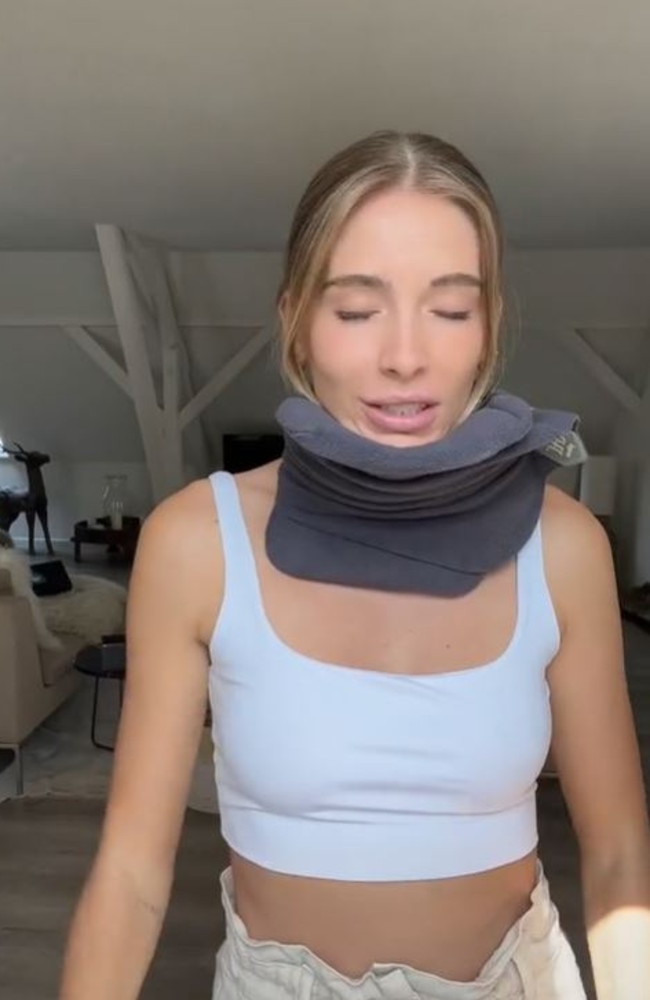 The website states to just undo the velcro and extend the pillow, then position the internal support against your neck – to your left, to your right, or under your chin. Picture: TikTok/lostlikelou
"You put it around your neck (like this) – you just wrap it around. It's super comfy. The material is so soft.
"You just stick it on the side and you can just rest your head and it is so comfortable. You can put it at the front as well. You just have to wrap it tighter. Oh it is such game-changer."
The website advises to just undo the velcro and extend the pillow, then position the internal support against your neck — to your left, to your right, or under your chin.
"There is no way I am leaving this at home again if I ever take a plane," Lou continued.
Fellow influencer Tiffany Palmer also shared a TikTok explaining she has never slept more on a flight since using the pillow.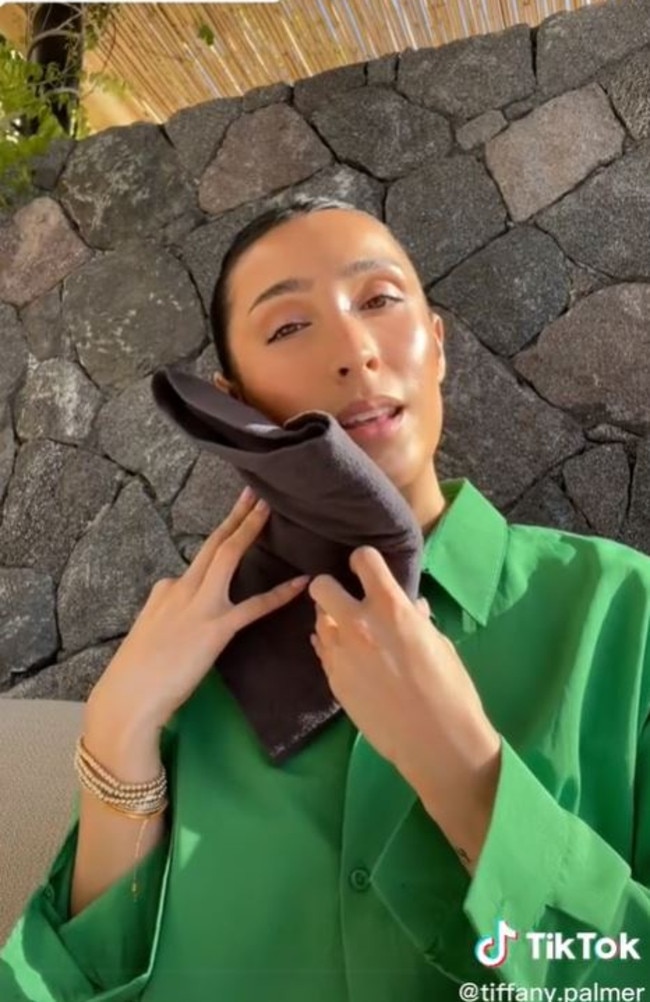 TikTok is flooded with videos bragging about the pillow. Pictured is influencer Tiffany Palmer who said she is still 'shook' over how good it is. Picture: TikTok/tiffany.palmer
"With this baby, that nine-hour flight went by so fast I am still so shook," she said.
Tiffany, who travelled to Greece, said she slept on one of her three flights with the pillow wrapped at the front.
She said it prevented her head from tilting back and forth while sleeping.
For the second flight, she slept with the pillow on the left side.
"My boyfriend had one too and he said it was super comfy," she said.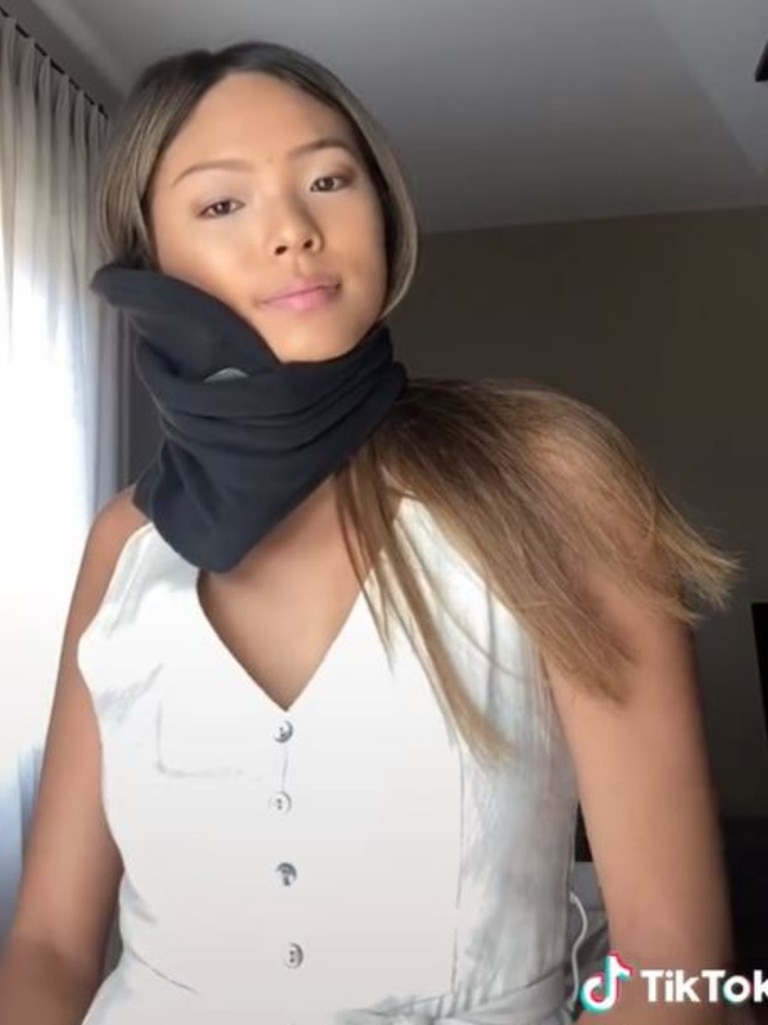 It has been described as the 'best' travel pillow. Picture: TikTok/adventureswithgi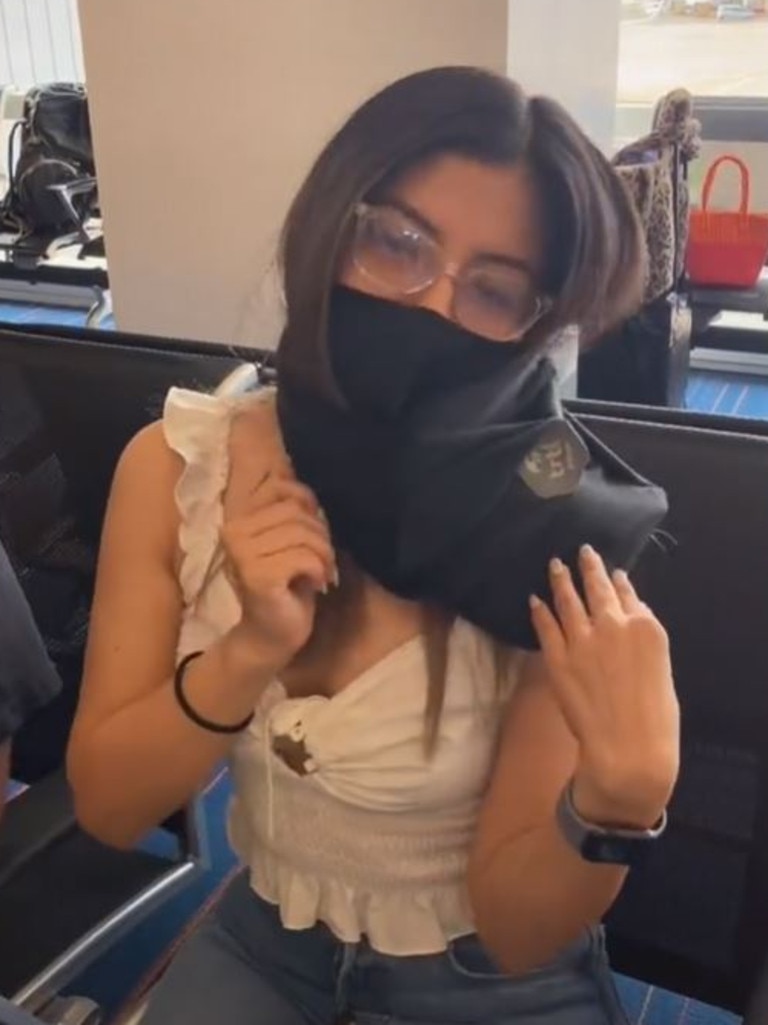 Some thought the pillow looked 'different' but were pleasantly surprised. Picture: TikTok
On Amazon Australia, it has clocked just over 26,514 reviews with an average four-star rating.
"I honestly had no idea what to expect when I purchased this," an Aussie reviewer wrote.
"It looked too different to work and so I was very hesitant about spending that amount on money on this pillow.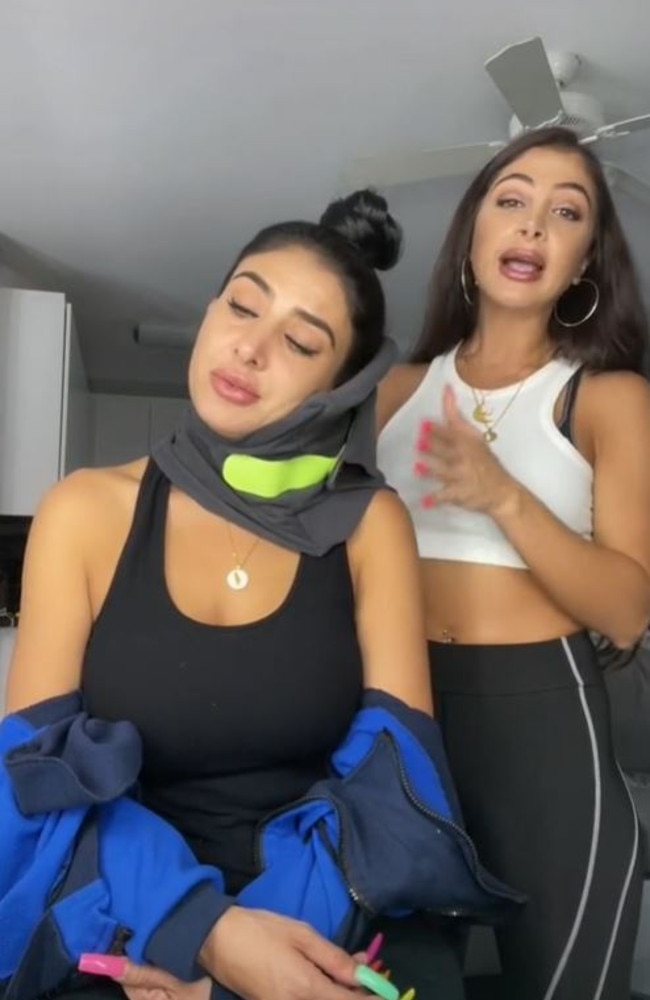 TikTok stars and sisters Ruba and Luna Kareem loved it. Picture: TikTok/itsofficialjamilah
"I had my doubts, but I'm telling you, it's 100 per cent worth it. It's actually more comfortable than what you think, it's so much more compact than most other U-Shape pillows and the support it offers is amazing."
The woman said while it looks "too weird for it to be true", you won't regret it.
It has, however, received a bunch of one-star ratings from people who have struggled to work it. "I must be a moron because I can't get this thing to rap (sic) around neck or stay there," one user commented.
"Returned … I found it very uncomfortable plus not easy to position on neck as described," another wrote.
Others claimed it didn't provide "much support".
"Either I have an unusual neck or this doesn't work. Pretty sure my neck is standard," a UK wrote.
He said he followed the instructions and still struggled to get it to work.
Credit: https://www.news.com.au