The life of the average human being has become very busy with a lot of moving around. From morning workouts straight to work and other activities within the day, you are likely to be on the go "every now and then". That is why it is important to have the kind of technology that fits your lifestyle.
Your phone has become a very important part of your life but in doing all those "up and downs", how do you manage to power it? Most people have power-banks which is not a bad option but that doesn't stop you freom trying a better option–wireless charging. That is why I have sampled a few tips that will teach you how to charge phone wirelessly.
Charge phone wirelessly
1. Qi compatible phones
A number of premium smartphones are adding wireless charging features. Many of the Qi-compatible handsets on the market will have official charging pads available for them. If you were fortunate enough, one of these wireless charging pads may be included to the buying package of the phone. If not, try getting the official pad from any trusted online shop. It's always better to have the original pad for your phone.
2. Charging Pad
The charging pad will more often than not come with only two components: the pad itself and a different power connector. Connect the connector to the attachment on the charging pad, put the pad on a level and stable surface and connect the adapter to the power supply.
depending on the charging pad you have, you may see a power light or you may not. Numerous wireless charging pads have a light which just turns on when a phone is being charged, while others have a light to indicate power and another to demonstrate charging.
3. Charging your phone
Place your Qi-compatible phone onto the pad, with the screen facing up. If there is a Qi logo on the pad, try to make sure your phone is placed centrally over it. If the phone is correctly placed, the light on the pad will turn on or flash, showing you that the phone is being charged. Most handsets will also display a notification on screen to tell you that it is being charged wirelessly.
Note that your phone will charge slower with wireless charging as compared to the normal cable charging. Also, both the pad and the phone will become a bit warm as it charges.
4. QI adapter cases
Don't worry if your phone doesn't have the wireless charging feature. You can still work out something. You can get a QI adapter case.  Several phones, including the iPhone 4 and 4S, some BlackBerry handsets and some of the Samsung Galaxy range, can be fitted with a case which contains a Qi chip.
Usually, these cases will be slightly bulkier than normal phone cases. This is because they have to include the chip and a method of connecting to the micro USB (or other connection type) port on the phone.
5. Galaxy S3 adaptors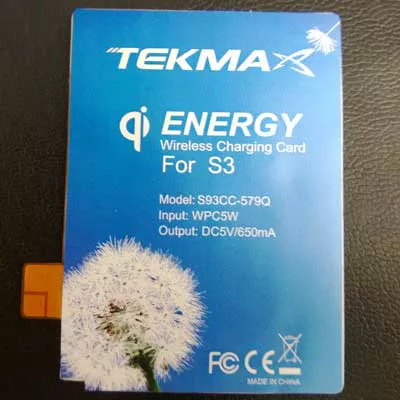 There is a better solution to the problem of not having a wireless charging feature on your phone if you own a Samsung Galaxy S3.  It is possible to buy a replacement back cover which has the Qi chip built in with this phone.
You can also buy a wireless charging card, containing the Qi chip, which can be slotted over the Galaxy battery.
Worth sharing?
Please share on Facebook or Twitter. It helps more people see it.
For those reading our articles from 3rd party platforms continue reading on JBKlutse.com.