Earlier last week, we shared our pick on 6 mobile games to play while stuck at home to help contain and curb the spread of the coronavirus. If you prefer a bit of friendly competition with friends and buddies online, we've got you covered.
Gaming is one of those great activities you can do with people without having to be with them physically. And since we're all socially distancing ourselves from one another right now, there's no better way to help keep each other amused than by playing some games together.
So here are 8 multiplayer video games you can play with your friends, each from the comfort of your own homes. And when you get tired of one game, there are plenty of places where you can sell video games online, hopefully using those proceeds to embark on your next multiplayer adventure.
---
Kindly subscribe to our YouTube channel
---
Call of Duty: Warzone
Platforms: PS4, Xbox One, PC
Call of Duty: Warzone is a 2020 free-to-play battle royale video game released on March 10, 2020, for Xbox One, PlayStation 4, and PC. The game is a part of the 2019 title Call of Duty: Modern Warfare, but does not require the purchase of it. Warzone was developed by Infinity Ward and Raven Software and published by Activision.
Warzone allows online multiplayer combat among 150 players set in the fictional city of Verdansk, which is loosely based on Donetsk city in Eastern Ukraine. The game features both cross-platform play and cross-platform progression between both games.
Rocket League
Platforms: PS4, Xbox One, Switch, PC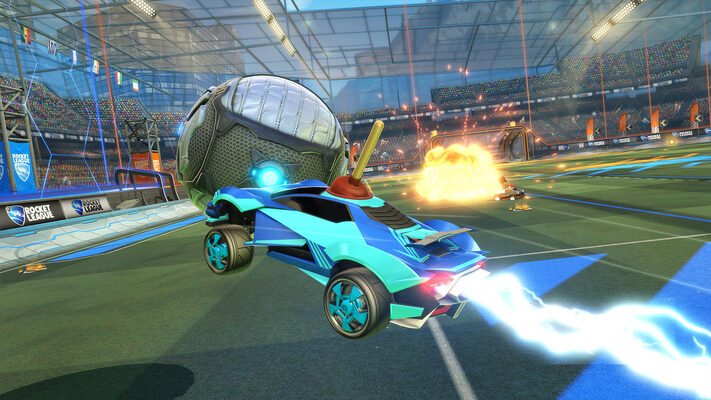 Rocket League is a vehicular soccer video game developed and published by Psyonix. Rocket League's gameplay is mostly the same as that of its predecessor, Supersonic Acrobatic Rocket-Powered Battle-Cars. Players control a rocket-powered car and use it to hit a ball that is much larger than the cars towards the other team's goal area to score a goal. Players' cars can jump to hit the ball while in mid-air.
Apex Legends
Platforms: PS4, Xbox One, PC
Apex Legends is a free-to-play battle royale game developed by Respawn Entertainment and published by Electronic Arts. Alternate modes have been introduced allowing for single and for two-player squads since the game's release. Each match generally features twenty teams of three-player crews. Players can join friends in a group or can be matched randomly with other players.
FIFA 20
Platforms: PS4, Xbox, Switch, PC
FIFA 20 is a football simulation video game published by Electronic Arts as part of the FIFA series. This is the 27th installment in the FIFA series. Gameplay changes to FIFA 20 focus primarily on a new feature titled VOLTA Football. The game features VOLTA Football for the first time, a new model that provides a variance on the traditional 11v11 gameplay and focuses on small-sided street and futsal games.
Overwatch
Platforms: PS4, Xbox One, Switch, PC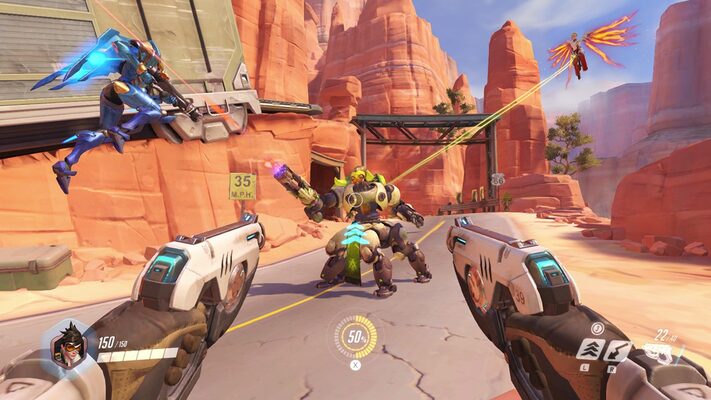 Overwatch is a team-based multiplayer first-person shooter developed and published by Blizzard Entertainment. Described as a "hero shooter", Overwatch assigns players into two teams of six, with each player selecting from a roster of over 30 characters, known as "heroes", each with a unique style of play that is divided into three general roles that fit their purpose.
Players on a team work together to secure and defend control points on a map or  a payload across the map in a limited   amount of time. Players gain cosmetic rewards that do not affect gameplay, such as character skins and victory poses, as they play the game.
Red Dead Redemption 2
Platforms: PS4, Xbox One, PC
Red Dead Redemption 2 is a 2018 action-adventure game developed and published by Rockstar Games. The game is the third entry in the Red Dead series. The game is presented through both first and third-person perspectives, and the player may freely roam in its interactive open world. Gameplay elements include shootouts, heists, hunting, horseback riding, interacting with non-player characters, and maintaining the character's honour rating through moral choices and deeds.
Mortal Kombat 11
Platforms: PS4, Xbox One, Switch, PC
Mortal Kombat 11 is a fighting game developed by NetherRealm Studios and published by Warner Bros. Interactive Entertainment. It is the eleventh main installment in the Mortal Kombat series. Mortal Kombat 11 introduces a Custom Variation feature that offers a character customization system similar to the Gear system in NetherRealm Studios' previous DC Comics fighting game Injustice 2, improving over the Variation system featured in Mortal Kombat X.
Tom Clancy's Division 2
Platforms: PS4, Xbox One, PC
Tom Clancy's The Division 2 is an online action role-playing video game developed by Massive Entertainment and published by Ubisoft. Played from a third-person perspective, the game is a cover-based third-person shooter with up to four players being able to complete missions together.
The game takes place in Washington DC seven months after its predecessor, in which a civil war between survivors and villainous bands of marauders breaks out. At the beginning of the game, players create their own Division agent by customizing the character's gender and appearance. In the game, players are equipped with different firearms, including assault rifles, sniper rifles and SMGs, and explosives like grenades to defeat enemies.
For more stories of this nature, visit www.jbklutse.com.